Published at 2017-09-01 - 11:27:31
ATEA group
A beautiful gift from the ATEA group
As you know, AE Industries works closely with the sheltered workshop BSW (part of the ATEA group).
The customized packing of your orders is done mainly by employees of the BSW.

Occasionally, some larger projects are also outsourced to the ATEA group and recently, services have been further expanded. AE Industries thinks it is important that everybody counts in the labor market and therefore takes its social responsibility seriously.
As a token of appreciation, the ATEA group gave us a beautiful and personal gift: a wonderful framed drawing of our building, made by one of their employees.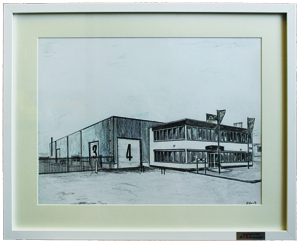 In the accompanying letter ATEA writes:
"This drawing of AE Industries was made by ATEA specially for AE by an artistic employee of the ATEA group, named Alfons Dubois.
The ATEA group presents this drawing as a promotional gift. This is to supplement the special relationship between both organizations and to express the appreciation of ATEA to AE Industries.
The ATEA group is AE Industries grateful for the cooperation. This gives the parties, in addition to business benefits, a great complement and additional opportunities in the social and social fields."
Of course the drawing will get a nice spot in the hall, where everyone can enjoy it.